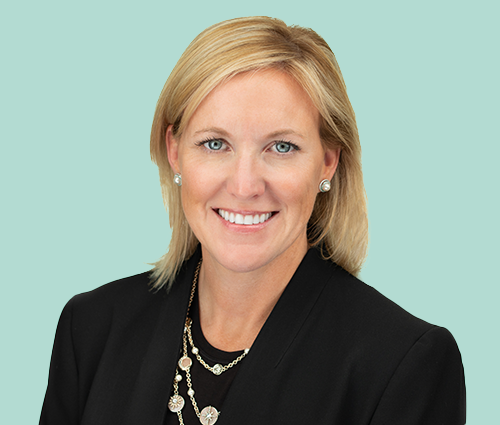 JESSICA WUNDER, CFP®, RICP®, CRPC®
Principal, Wealth Management
Jessica provides wealth management to high-net-worth individuals and families to help them achieve their financial goals. Dedicated to supporting her clients' financial independence, she plays the role of coordinator for all internal and external team members, making sure plans are on track and viable.
Prior to joining McLean, Jessica was a Vice President, Financial Consultant at Charles Schwab and before that a Financial Advisor at Smith Barney (formerly Legg Mason). Jessica serves as Chair on the Board of Directors of the Parkinson Foundation of the National Capital Area.
Education
Professional Designations
CERTIFIED FINANCIAL PLANNER™
RETIREMENT INCOME CERTIFIED PROFESSIONAL (RICP®)
Chartered Retirement Planning Counselor (CRPC®)
FINRA/NASD Series 7 and 66
Virginia Insurance License
Professional Affiliations
Chair of the Board of Parkinson Foundation of the National Capital Area: July 2022- Present
Vice Chair of the Board of Parkinson Foundation of the National Capital Area: June 2020- June 2022
Professional Recognition
AdvisorHub "50 Women Advisors to Watch" - 2023
Northern Virginia Magazine's 2022 Top Financial Professionals list
Northern Virginia Magazine's 2021 Top Financial Professionals list
Northern Virginia Magazine's 2015 Top Financial Professionals list
Northern Virginia Magazine's 2014 Top Financial Professionals list
Disclosure: Third party rankings and recognition from ratings services are no guarantee of future investment success. Working with a highly rated advisor does not ensure that a client or prospective client will experience a higher level of performance or results.  Ratings should not be considered an endorsement of the advisor by any client nor are they representative of any one client's evaluation. Northern Virginia Magazine named Top Financial Professional in seven categories: Employee Benefits, Estate Planning, Income Tax Planning, Insurance Planning, Investment Planning, Retirement Planning, and Risk Management. In 2015, there were 755 financial advisers considered, and 144 were named a Top Financial Professional. For more information, go to www.northernvirginiamag.com
The 2023 AdvisorHub "Advisors to Watch" award was announced in June 2023. Data as of 12/31/2021 and 12/31/2022 was provided and considered for this award. The ranking recognizes advisors across the country for their quality of practice, professionalism, character and community involvement. Criteria considered included: assets under management, production/revenue, team size and more. The financial advisor does not pay a fee to be considered for or to receive this award. This award does not evaluate the quality of services provided to clients. This is not indicative of this financial advisor's future performance. The complete recipient list and additional information about the ranking methodology are available on the AdvisorHub website at advisorhub.com.
Industry awards and rankings, professional designations, and years of experience should not be considered the sole determining factors in deciding to hire or retain an investment adviser. For additional information regarding the CFP®, CRPC®, and RICP® professional designations, please visit https://www.mcleanam.com/disclosures. The effectiveness and potential success of wealth management services depend on a variety of factors, including but not limited to the client's financial circumstances and objectives, market conditions, and coordination with the client's outside professional(s). Past performance does not guarantee future results. All investing comes with risk, including the risk of loss.